Reserve online
Hotel Continental Palacete Barcelona
and save with our discounted rates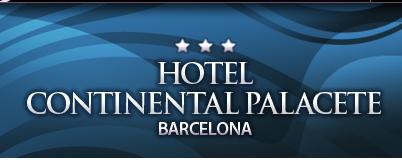 Come stay in an elegant palace dating back to the XIX century, its the opportunity to enjoy the lively city of Barcelona, right in the center of the all the action.

Here you will find comfortable rooms, an elegant interiors and there are so many more reasons why you will enjoy your stay at the Continental Palacete in Barcelona. Its location right in the centr of the city will aloof you to visit the most beautiful sights such as the la Piazza Catalunya (just 5 minutes), il Barrio Gótico and the Cathedral, the lively beaches, la Sagrada Familia di Gaudí or the Palau de la Música.

The hotel offers many services such as the delicious buffet of food and drink that is available 24 hours a day.

The interior decoration is a romantic neoclassic style together with the lounge areas in "Versailles" style that are the perfect quiet areas to relax.

You will find your accommodation perfectly comfortable with sound proof windows, satellite TV, free WiFi internet connection, hairdryer in the bathroom, air-conditioning, freezer, microwave, and safe. All this to offer you the best vacation possible in Barcelona.
Give us your Feedback
Hotel Continental Palacete, Rambla Catalunya, 30 - Barcelona